Proud Sponsor of Many Local Projects
We try to keep pretty busy! Here's a list of (some of) the rest of the activities not otherwise mentioned elsewhere on the website.
Octagon Club Sponsor: We sponsor a youth Optimist Club at Wapakoneta High School. These great young men and women go so many things for their school and their community, like a coat drive, visiting at The Gardens (assisted living home), and many other projects.
Stadium Cleanup Crew: In conjunction with Octagon Club, we do stadium cleanup after high school football games.
WHS Senior Scholarship Program: We award scholarships to Octagon Club members that apply. Every year it's a great group of young students that applies and we are constantly amazed by the great youth that is a part of the Octagon Club!
Kids Fishing Derby: We sponsor an annual fishing derby where we provide fishing poles and tackle to kids to fish out of a stocked pond. Lunch is also included, as we cook some hot dogs over a fire.
Middle School Trips: We take middle school students that might not otherwise have the chance to do things like tubing at Mad River Mountain. Some years, the weather doesn't cooperate so we take them to placed like Sky Zone or Scene 75.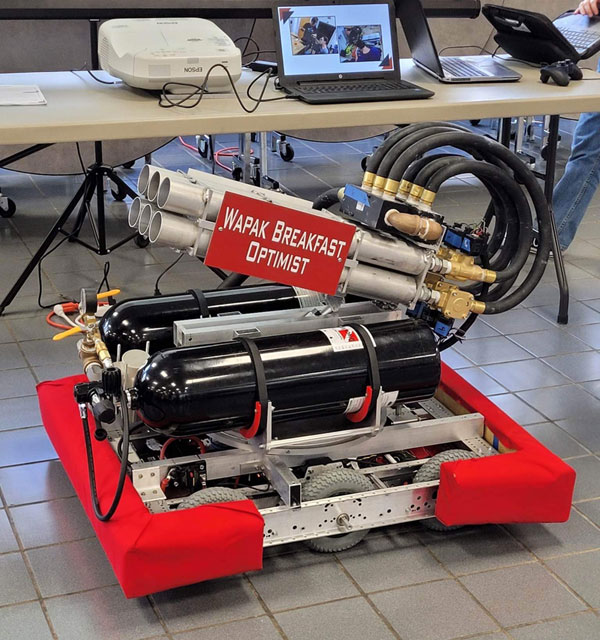 Scholastic Book Fair: We partnered with the PTO to help give FREE books to elementary kids.
Robotics Club T-Shirt Cannon: We sponsor a robot that functions as a T-shirt cannon.
Roast Beef / Pulled Pork Dinners: These are our biggest fundraisers of the year WBOC members pitch in to make great meals that are very well-received by the community! We are thankful year after year for the turnout.
MoonFest Kids Zone Platinum Sponsor: At the annual Moon Festival held in Wapakoneta, we have sponsored a Zipline (2022) and a Rock Climbing Wall (2023).
Golf Outing: We hold an annual Golf Outing at the Wapakoneta County Club. All proceeds benefit the Breakfast Optimist Park Fund.